Bright Plaid Love of Leaves Hello Card The thing I love about the Plaid Tidings paper is that it has a plaid for every occasion. ‌ ‌ ‌ ‌ ‌ ‌ ‌ ‌ ‌ ‌ ‌ ‌ ‌ ‌ ‌ ‌ ‌ ‌ ‌ ‌ ‌ ‌ ‌ ‌ ‌ ‌ ‌ ‌ ‌ ‌ ‌ ‌ ‌ ‌ ‌ ‌ ‌ ‌ ‌ ‌ ‌ ‌ ‌ ‌ ‌ ‌ ‌ ‌ ‌ ‌ ‌ ‌ ‌ ‌ ‌ ‌ ‌ ‌ ‌ ‌ ‌ ‌ ‌ ‌ ‌ ‌ ‌ ‌ ‌ ‌ ‌ ‌ ‌ ‌ ‌ ‌ ‌ ‌ ‌ ‌ ‌ ‌ ‌ ‌ ‌ ‌ ‌ ‌ ‌ ‌ ‌ ‌ ‌ ‌ ‌ ‌ ‌ ‌ ‌ ‌ ‌ ‌ ‌ ‌ ‌ ‌ ‌ ‌ ‌ ‌ ‌ ‌ ‌ ‌ ‌ ‌ ‌ ‌ ‌ ‌ ‌ ‌ ‌ ‌ ‌ ‌ ‌ ‌ ‌ ‌ ‌ ‌ ‌ ‌&nb sp;‌ ‌ ‌ ‌ ‌ ‌ ‌ ‌ ‌ ‌ ‌ ‌ ‌ ‌ ‌ ‌ ‌ ‌ ‌ ‌ ‌ ‌ ‌ ‌ ‌ ‌ ‌ ‌ ‌ ‌ ‌ ‌ ‌ ‌ ‌ ‌ ‌ ‌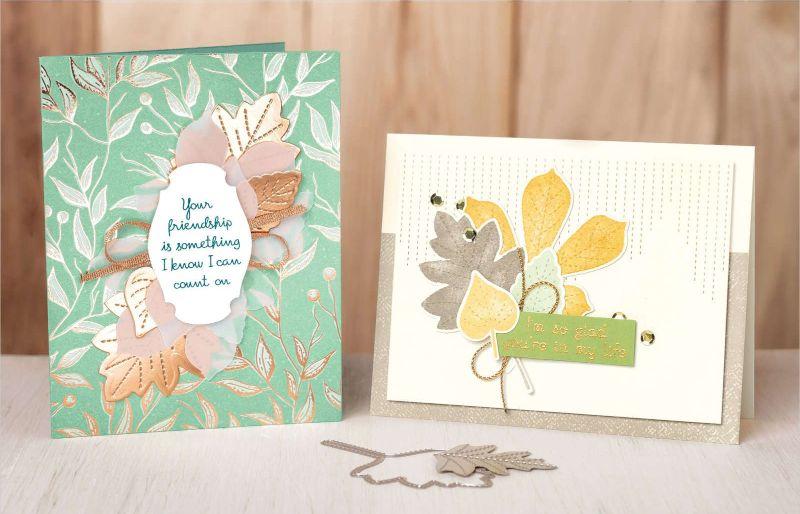 Promotions Join My Team Projects Paper Pumpkin Facebook Group Hello *|FNAME|*,

This time of year I start thinking about Autumn and the upcoming holidays. This year things are looking different, but I'm determined to celebrate the good. I'm feeling the need to create and be surrounded by beautiful and cheerful things, and I don't think I'm alone in that. Something as small as a hand stamped card or gift can make a big difference to someone you care about. I challenge you to spend some time making cards and gifts and sharing them – Together we can create a beautiful fall!

The new August-December 2020 Mini Catalogue is here and it's packed with project ideas and supplies to inspire your holiday creativity. You can view it online or let me know if you want your own copy. Don't forget to use Bonus Days Coupons earned in July when you are shopping!

The online store is newly improved and looks a bit different. Please be sure to log in and select me as your demonstrator. I greatly appreciate it! I've included a download with some of the new features. Hooray for Wish Lists!

Thanks, and have a great day.
-Maxine
When you spend under $200 (before shipping and taxes) please use August Host Code: YHB9HPS9and I will send you a FREE gift as a Thank you for shopping with me. Orders over $200 please do not use code as you will receive bonuses when you place your order.
What's Happening
Latest Inspiration Mon, August 17, 2020Boho Indigo…Wed, August 12, 2020Peony Garden…Mon, August 03, 2020New On-Line Store…Fri, July 24, 2020Forever Greenery…Fri, July 03, 2020Bonus Days are Back…Wed, June 17, 20202020-2022 New In-Colors…Fri, June 05, 2020World of Good Suite…Wed, May 27, 2020…Wed, May 13, 2020Kits on Sale…Wed, May 06, 2020COVID 19 GIVEBACK… Upcoming Events Bright Plaid Love of Leaves Hello Card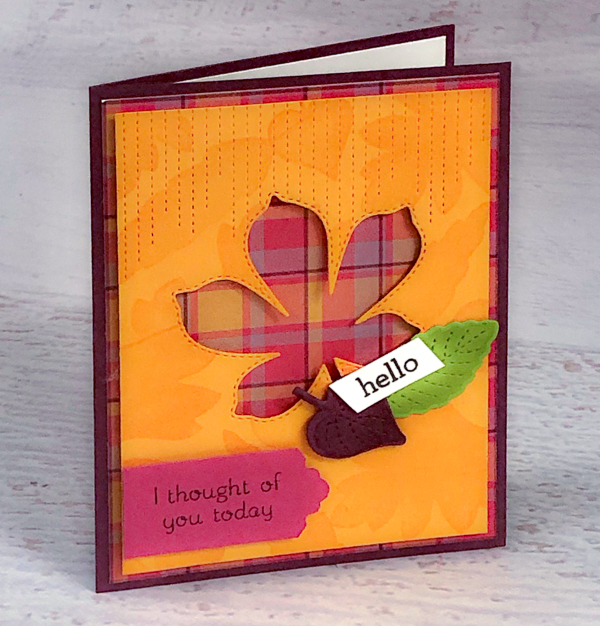 Plaids and leaves may make you think of flannel shirts and crisp Autumn days, but I think you'll like this unexpected, bright, warm twist.

This card features the Love of Leaves Bundle (#155195) and Plaid Tidings 6″ x 6″ Designer Series Paper (#153527). The thing I love about the Plaid Tidings paper is that it has a plaid for every occasion.

It's great for all the things you might expect from plaid, but the bright colours are great for baby and Easter and the black and white patterns are ideal for elegant birthday or anniversary cards.

The stitching detail of the Stitched Leaves Dies (#153567) adds the extra bit of detail that gives a card the perfect finishing touch.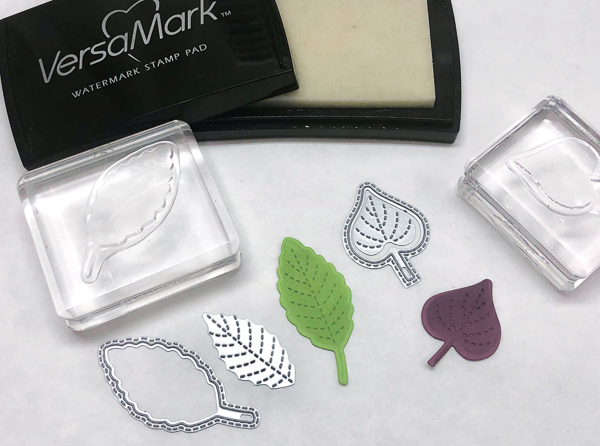 1. Stamp & Die Cut
Stamp the two small leaves from the Love of Leaves stamp set on scrap Granny Apple Green and Rich Razzleberry cardstock with VersaMark ink. Die cut with coordinating Stitched Leaves outline and center stitched pattern dies.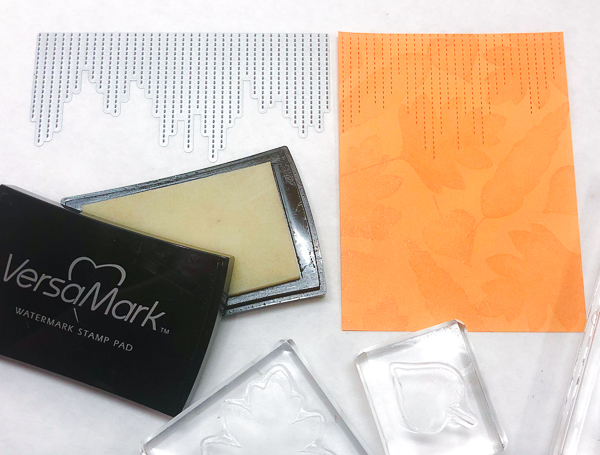 2. Stamp & Stitch Stamp assorted leaves from Love of Leaves stamp set on 3-3/4″ x 5″ Mango Melody cardstock with VersaMark ink. Line up the stitched stripes die at the top of the cardstock and die cut the stitched perforations.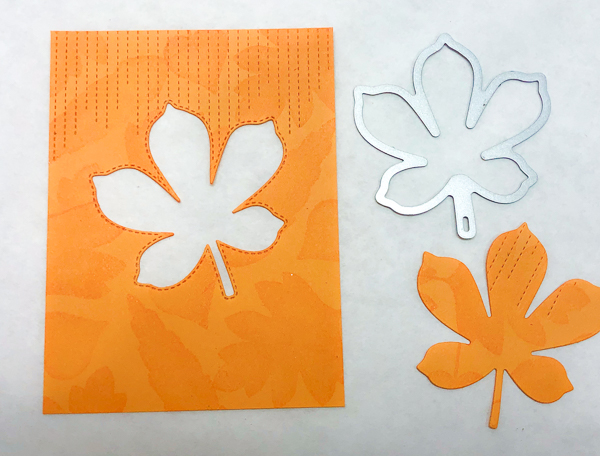 3. Die Cut Leaf Die cut the largest leaf from the Stitched Leaves Dies from the center of the Mango Melody cardstock.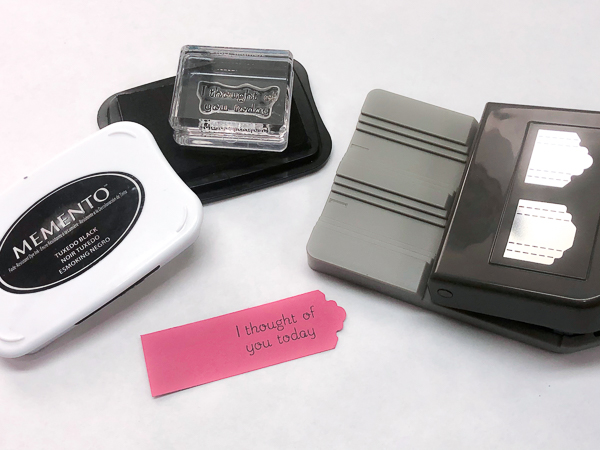 4. Stamp & Punch Greeting Punch one end of a 4″ x 1″ Melon Mambo cardstock strip with the Lovely Labels Pick a Punch. Stamp greeting near the punched end with Tuxedo Black Memento ink.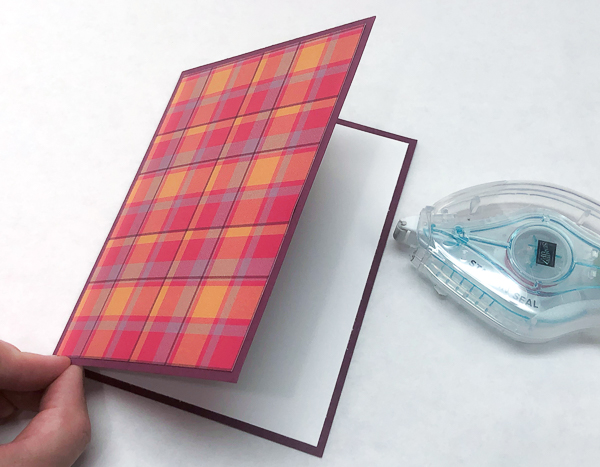 5. Card Base & Layers Cut Rich Razzleberry cardstock to 5-1/2″ x 8-1/2″. Score at 4-1/4″ along the 8-1/2″ side. Layer 4″ x 5-1/4″ Plaid Tidings paper onto the front and 4″ x 5-1/4″ Whisper White cardstock on the inside for a writing area.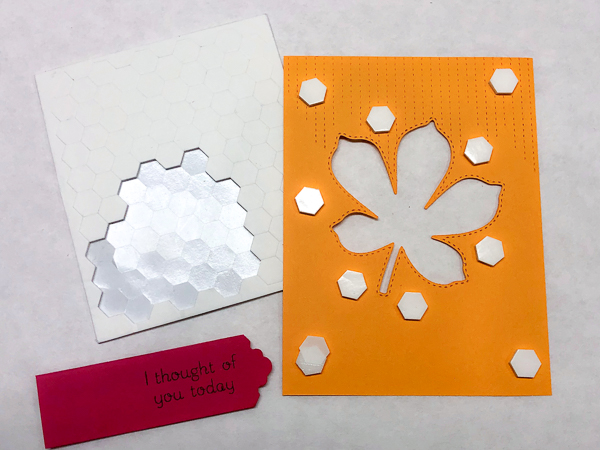 6. Add Stampin' Dimensionals Emphasize the die cut image by making it "float" on the card front. To do this add Stampin' Dimensionals to the back of the Mango Melody layer near the edge of the die cut leaf and at the corners. Add Stampin' Dimensionals behind the greeting.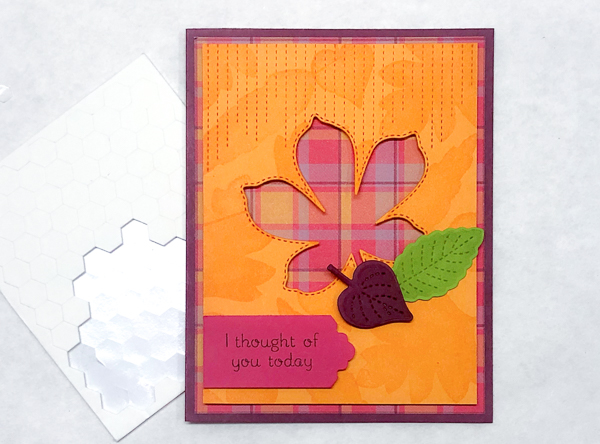 7. Add Leaves & Greeting Add greeting to the bottom left of the Mango Melody layer, trim off excess at the edge. Add layer to card front. Add Granny Apple Green leaf with Stampin' SEAL or Mini Glue Dots. Add Rich Razzleberry leaf with Stampin' Dimensionals.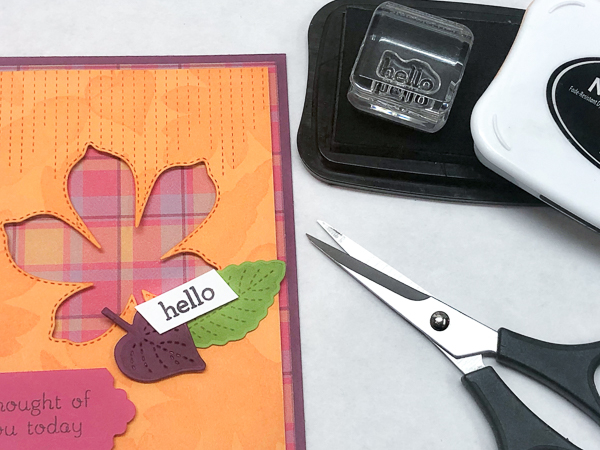 8. Stamp & Cut Stamp "hello" greeting on scrap Whisper White cardstock with Tuxedo Black Memento ink. Cut out greeting with Paper Snips and add to card with Mini Glue Dots. Supplies Love of Leaves Bundle

MORE Plaid Tidings
6″ x 6″ Designer Series Paper MORE Lovely Labels
Pick a Punch

MORE Specials About Me
Maxine Finch Stampin' Up! Demonstrator
White Rock, BC, Canada
604-541-1743
[email protected]
www.createwithmaxine.ca
VISIT MY SITE You have received this email because you have subscribed to my newsletter list, purchased products from me, or attended an event I hosted. If you no longer wish to receive emails please unsubscribe using the link below.

© CraftyPerson Productions | Images © Stampin' Up! | All Rights Reserved